As many of the music lovers, fans and family continue to remember him not just as a singer but a man of different walks of life, Moses Radio, real names Moses Nakitinje Sekiboggo was also a Soldier with a top rank in the army. How he became one, is a question we are going to answer today in our #TheMonthOfRadio series but before we get into that, make it a point to check out the past two editions of this news series describing Who Moses Radio the SINGER was and also Who Moses Radio the Friend was, that background will give you a better understanding of todays focus on WHO MOSES RADIO the SOLDIER was? Enjoyyyy!!!
In their genesis, under their music umbrella group, the Goodlyfe Crew, the lyrical duo, Radio and Weasel were not just trying to set foot as the top musical duo in Uganda but also breaking barriers for a new generation of music artists in the land. According to Radio, that was not a mere fight but a real war and him being at the forefront of this initiative and movement, he automatically became a commander of the rest of the generation that came after him and Weasle breaking the barrier. "If that's not a soldier then who is it ?" Radio asked during a 2017 interview with a local Television in preparation for their 10 years of RAW concert to mark 10 years in the music industry.
Moses Radio was one kind of person who always liked to be a soldier and termed himself as a soldier. The only people who can witness that, are his close friends and they always termed him as a "soldier" just because of his love to look one. Aware that his love for being a Soldier was way up there, fighting and beating all odds to open doors for new talent and a new generation into the land of Music, his close pals termed him General, a top rank in the army to appreciate his works.
Although its illegal for civilians to wear soldier like attire and military uniforms, for a long while, Radio made it a normality to don on military attire meant for soldiers in his daily life. He's seen performing on stage in this attire, Shot various music videos and casually dressed in the same attire on many instances, to him he lived liked a soldier. The law, under section 164, bars civilians from the unauthorized wearing of military uniforms. If found in contravention, a person is liable to imprisonment for seven years.
Late Mowzey Radio liked to dress in military kind of code and even at death, his body too was wrapped up in that attire and was buried in it because he wanted to be buried that way. There is an untold story of this scenario, Singer Lillian Mbabazi who is one of Radio's widows wanted the Late Radio's body to be dressed in a black suit he wore at the Nakudata concert in honor of their first breakthrough song whereas the Goodlyfe team wanted him to be dressed in the costume he performed in most during the 10 Years of RAW concert. On the other side, his White wife wanted him to be buried in the military attire because she claimed the late had confined in her that if he were to pass away, he desired to rest in military attire. This suggestion was supported by the majority and that's how the fallen legend was dressed ahead of the burial.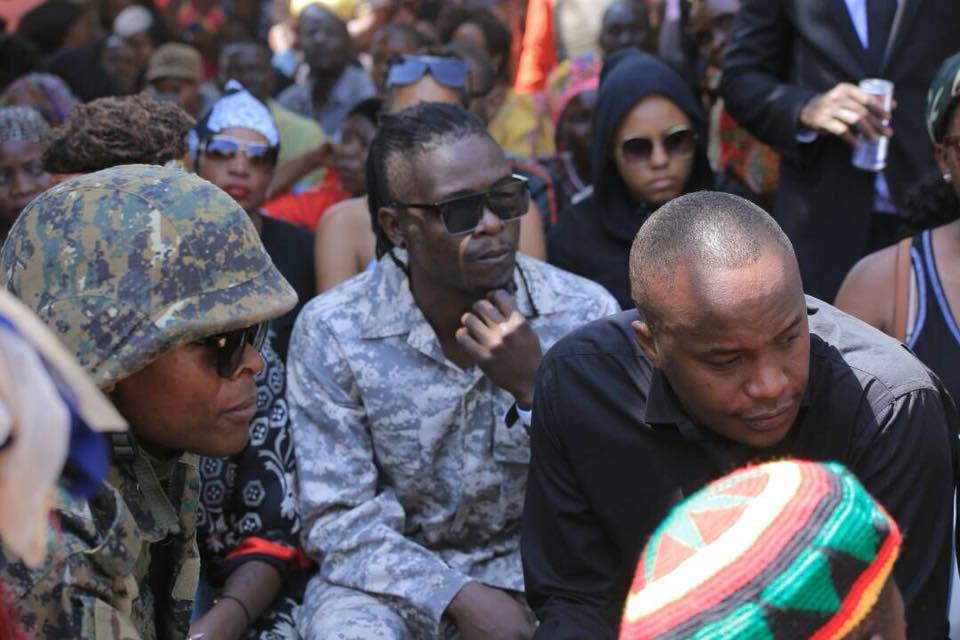 While at kololo when Radio's body was being paid last respect by general mourners and stake holders in the entertainment Industry, many respected him by referring to him as a soldier and many celebrity friends turned up for his burial donning on military attire. Because Soldiers don't die but they retreat!, singer Buchaman another soldier and army fanatic paid his respects saying that the soldier had just retreated.
"The soldier has retreated. There is grief uptown, downtown and in the ghettos. Everybody is in sorrow but the army is still here on the frontline", he stated.