Updating the country on the Coronavirus situation in a televised speech on Friday 31st December 2021, President Yoweri Museveni said Bars and nightclubs will be reopened, and a nighttime curfew lifted, two weeks after schools have resumed, he added. Movie theatres and sporting events would also be allowed to reopen, he said.
Big Trill's song Party After Party did not happen by mistake. The song was without a doubt inspired by the partying spirit of Ugandans. Ugandans like to 'eat' life and to serve that need, there are a plethora of hangout places littered all around Kampala and areas surrounding it. There is literally a bar standing on every street in the city. With night life opening soon, in our #FRIDAY LISTS series, we today bring you the top 11 bars and night hangout spots expected to light up your night life after lockdown.
LEVELS LOUNGE – KAMPALA
Levels Lounge is a combination of an outdoor setting and club experience, a beautiful health spa and gym, and restaurant. It is exactly what you're looking for. Levels Lounge boasts of a well decorated VIP Lounge, two well stocked bars, a kitchen, sauna without forgetting a gym for those who love working out. They also offer great music mixes played by the best DJs in town and also before lockdown, Levels had various theme nights like live band night on Wednesday, 'Throwback Thursdays', 'Level Up Fridays', 'Trap and Tropical Saturdays' and the 'Sunday Coppa Cabanna'.
Levels Lounge promises to bring the best quality services to the industry and according to its ambiance and its interior design, this is one place you can take your girlfriend or boyfriend for lunch or dinner and organize a party at. Amidst the 2 year lockdown, Levels has been the go to place for the famous called Brunch events that partly solved the boredom problem for the party lovers, it also hosted the Famous Comedy Store event by Alex Muhangi every Monday starting 3 PM. With this background, Levels is undoubtedly that number one spot for anyone looking at kickstarting their lost glory of Kampala's night life.
CLUB GUVNOR UGANDA – INDUSTRIAL AREA
Arguably one of Uganda's leading corporate night spot. Guvnor Uganda is Uganda's premium night club that offers an array of Night themes year in year out to keep you into the party mood weekly and monthly. Located along 7th Street Industrial Area in Kampala, the night club boasts of secure ample parking space, maximum security, 5 fully stalked bars, 3 sitting areas with a smoking zone, pristine sound, food and beverages department, standard and standby Ambulance and night through clean washrooms for both Ladies and gents.
Guvnor Uganda's night theme nights include, Oldies Night, Saturday Night fever, Guvnor DJ Snap off, Friday Nite Live with amazing deejays like Selector Jay, DJ Bryan, DJ MarkRebel among others with a touch of MC Mozeso.
LA PARONI'S – KAMPALA
One of Kampala's latest night spot before lockdown, La Paroni's is a popular bar and restaurant located along Parliamentary Avenue. La Paroni's provides an ultimate nightlife experience that you can never find elsewhere. This bar is fully decorated with nice artistic decors that will keep you glued while you sip on ice cold drinks and also associate to make new friends anyday. Their night themes included Wednesday Night live featuring Qwela band,Friday Video Premiers, Sunday Funday featuring deejays Slick Stuart, Kas Baby, Vee, Mato and Jose, The Jump OFF among others. Their restaurant section has tasty foods and snacks that you and your pals can grab bites from. This is the bar that gathers every party animal, the celebrities, their hangers-on, the wannabes, the spoilt rich kids, the Instagram slayers and all. 
EXO LOUNGE – KAMPALA
EXO, former Club Play is located along 2nd Street, Industrial Area, Kampala. It blends the appeal of a high-energy nightclub and an exclusive lounge. Exo is a nightclub experience unlike any other. One of the most versatile venues in town that combines traditional venue options with the bottle-popping club world.
Two floors allow for easy dancing and drinking on weekends. Between its oversize dance floor, massive LED wall, 30-foot bar and craft cocktail program, Exo Lounge is sure to become the envy of its competitors and fast. Look for some of the city's top up-and-coming DJs spinning house, electro, hiphop, dancehall, reggae, dubstep, underground disco and indie dance alongside the occasional global talent. Their theme night dubbed Disturbing Kampala Saturday took place every Saturday organized by Flames Events led by Gareth Onyango, another is their Sunday night that was filled with mixes from Selector Jay.
CASK LOUNGE – KOLOLO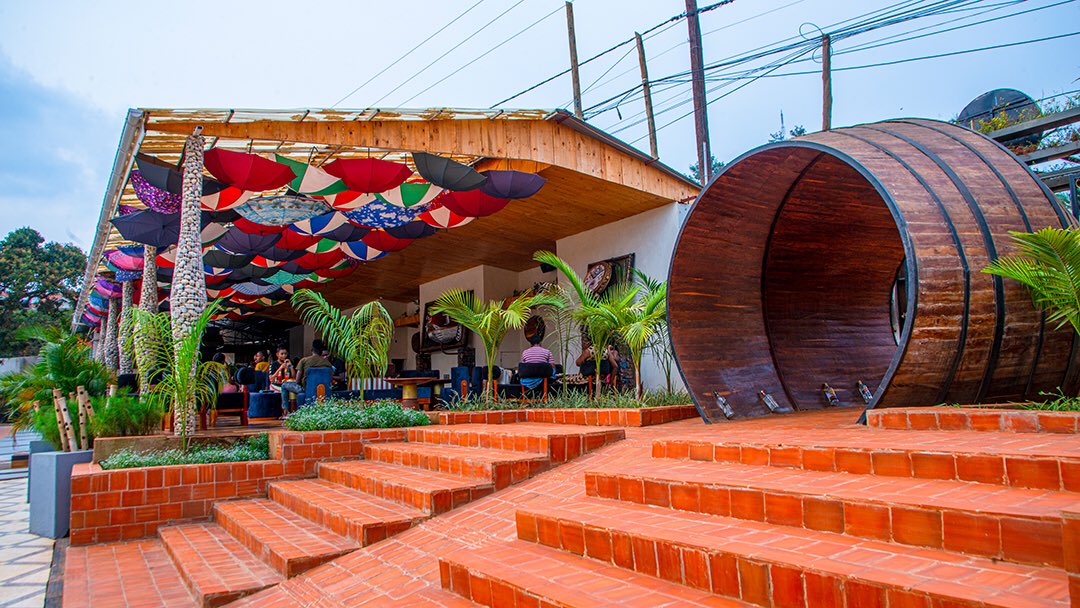 Unfortunately for Cask Lounge, it opened during the Covid 19 lockdown at a time bars were closed to curb the spread of the virus, fine looking photos of this hangout took social media by storm in the 2020 lockdown. Located along Plot 35, Babiha avenue in Kololo, Cask is expected to revolutionize the night life along the Kololo lane. With Wave Lounge, Casablanca and Fame Lounge closing business in the area, Cask lounge is expected to revive that whole vibe with great new theme nights meant to turn you up all week long.
NOMADS BAR – BBUNGA, KAMPALA
Nomads Bar is a popular hangout for the middle class in the township known for its bustling nightlife. Ggabba Road, Kampala, in Bunga just opposite Shell Bunga. Nomads hosted various theme nights like Hangout Mondays, Africa Connect Thursdays, Take Over Fridays, Jiweke Satu
MIST BAR – KABALE
If you are in Kabale and wondering where to have plot with family and friends when the bars fully open, Mist Bar is the ultimate zone for you. Conveniently located along Skyline street, Mist Bar gives you the finest nightlifeexperience as they have an array of night themes and live band sessions designed to entertain you through whole night and every day as you enjoy your stay in the Kigezi region part of Kabale.. Mist bar has house Deejays such as Selector Amen, DJ Alberto 43, Sean Davis, DJ Young Frank and MC Shammy are always warmed up to have you covered with variety night mixes as you enjoy col drinks and eats.
CLUB ONE – MUKONO
Undoubtedly the best Night spot in Mukono town. Club One hosts a range of theme nights mostly targeting the youth populations around the area not compromising Campusers from nearby learning institutions led by UCU – Uganda Christian University as they are designed a night every Friday featuring different artists at the venue.
Some of their theme nights include, Oldies Sundays, Friday Campus Night, Saturday Variety Night, Campus beer night among others. The club has house deejays as DJ Marvin, DJ Max, DJ PDD and MC Khofla entertain revelers till wee morning hours as they enjoy ice cold drinks and eats.
CLUB ELTANJI – MBALE
Are you in Mbale, Eastern Uganda and looking for where to party? Here's a secret for you, Club Eltanjia, one of Mbale's popular hangout is always open Tuesday to Sunday every week to keep your party mood logged always. This night spot is located on plot 9 Cathedral Avenue, Mbale and offers a wide range of variety theme nights such as, Fresh Tuesdays, Wednesday Ladies Night, Thursday Raggae and Oldies Night, Eltanjia Craze Fridays, Mash Up Saturdays among others as resident deejays spice up the nights with amazing mixes to keep you dancing the whole night long on every party day as they also feature musicians on some occasions. They have two fully stocked bars nd a food area to have you enjoy your nights.
QUEENS PALACE – MALABA
Dubbed "House of Music", Queens Palace located in the heart of Malaba town, off Tororo in Eastern Uganda is the ultimate zone for you to relax and enjoy variety nights if you are at the Ugandan – Kenyan boarder. It boasts of having the best well stocked bar in town coupled with variety entertainment from particular Ugandan artists who perform often at the venue.
Queens Palace also has a fine restaurant with expert chefs who make the best foods for revelers to enjoy with ice cold drinks as they dance whole night every day to mixes from resident deejays.
SMILING PANDA – GULU
Located on Plot 3, Princess Road in Gulu, Smiling Panda is the place to be if you are in Gulu and looking for a place to find vibes. Known for hosting the finest events in Uga da such as the 2018's 10 Years of Swangz Avenue, Smiling Panda is spacious for a couple of functions including Concerts, video premiers, among others. The spot has DSTV Fully connected for sports lovers and soccer fanatics who may never want miss out on La liga, English Premier League among others.