There is no doubt that the death of legendary singer Moses Radio left a very big hole in the Ugandan music industry. A wizardry in singing, writing and drawing pictures, Radio was a man of many talents & it was such a tragedy that Uganda lost him before he had reached his very peak.
In our #TheMONTHOfRadio series, we have been giving you a couple of Radio`s personality traits that made a brand he was, today we look at Moses Radio the fighter and If you have been an ardent follower of Uganda's music industry, it doesn't come as a surprise that Moses Radio was considered as one of Uganda`s music "baddest street kids" who was feared by many.
Although many women, after listening to his songs, thought he was a gentle and romantic chap, the hot-tempered singer had started and engaged in various uncalled-for fights. He hadn't limited his altercations to musicians but also stretched them to the police, event managers and ordinary people. Radio almost documented all his fights and battles through music and he released beef songs to attack his opponents. Among the many we know, we have decided to present to you some of the times he got involved in fights.
With Troy, who allegedly caused his death
Radio died of severe injuries of February 1, 2018, after a one Godfrey 'Troy' Wamala lifted and slammed him on concrete at De Bar, a popular hangout in Entebbe, in the process, splitting his skull. Following the incident, Radio was rushed to Nsambya Hospital in critical condition before being transferred to Case Clinic where he later died of a brain bleed. A one Pamela Musiimire, the woman who called Radio to the bar (De Bar) in the first place, suggested that there was a third party, an unidentified man dressed in a white T-shirt and blue pair of shorts, who also attacked Radio.
While her narration of how events unfolded was similar with that of the other eyewitness, producer David Ebangit famously known as Washington, said the inconsistency is in "who lifted Radio and hit him on the floor". After two weeks of silence when Radio had died, Washington, who by the time was neither spoken nor been seen in public since the attack, finally came out and spoke to NBS television. He had travelled with Radio from Kampala to inspect works on a mansion being built by the musician in Entebbe. Later, they joined Musiimire at De Bar where Washington said he saw Troy inflict the grievous injuries on the nationally adored Radio.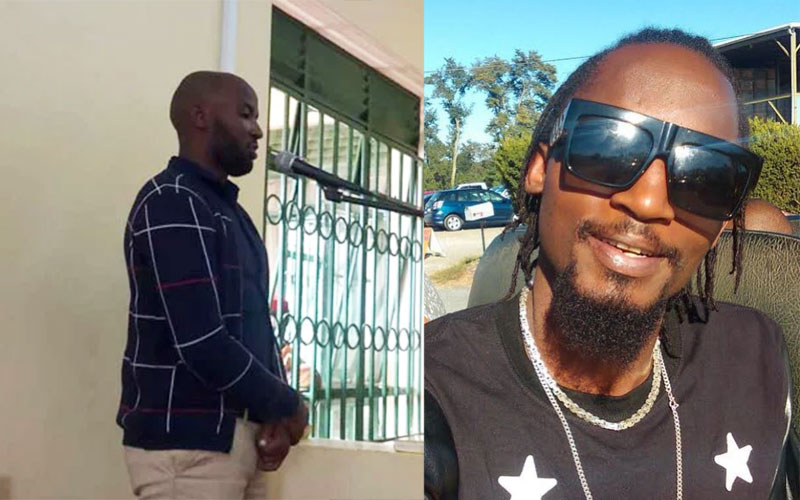 "He [Troy] lifted him up and threw him down. I heard Radio's head crack...," Washington narrated. He said they set off from Makindye to Entebbe at around 3pm, arrived at the bar between 5pm and 6pm, and that the assault ensued around 7pm. Earlier reports before Ebangit's interview had said the tragic brawl took place at about 9pm. It was then up to the police and Directorate of Public Prosecutions to cobble together different strings in what would become as the most heart-rending of celebrity homicides in Uganda.
In her judgment on October 28th 2019, Justice Jane Francis Abodo noted that prosecution failed to prove to court beyond reasonable doubt that Wamala killed Moses Radio. She, however, said that court conquers with the prosecution that the accused person participated in the brawl that ended the artist's life.
With Jose Chameleone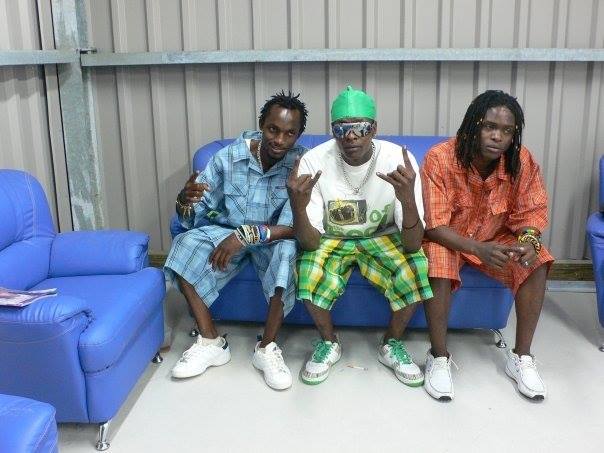 In April 2004, Uganda`s legendary singer Chameleone received Mowzey Radio as an artist. However, for him to be welcomed into Leone Island as a musician, he had to prove himself—an opportunity he latched at with both hands through his first song, Jennifer, that soon landed him a slot as Chameleon's backup singer and consequently a member of his Leone Island band. Chameleone's younger sibling Douglas Mayanja alias Weasel was a member of this same band.
As the rookie in the band Radio did more than sing. He often ran errands for Chameleone and other members of the band, which may explain the car washing story by Weasel, soon to be Radio's singing partner and one-half of the duo Radio & Weasel. "I was very impressed by his deed. He didn't have to do it but he did it. From that day on, I asked him to always move with me. That's how we built a bond," revealed Weasel. The two became very close and inseparable that soon they began breaking rules together. A misunderstanding with their boss, Chameleone, saw them kicked out of his house, a move that consequently resulted into the formation of the GoodLife Crew.
After establishing the Goodlife crew, these two became direct competitors or arch-rivals to their former boss and on many occasions, they could get into relentless physical fights that could have ended their lives. Diss songs as orchestrated by Moses Radio could be dropped left, right and center targeting Chameleone and these included; Kamila, Sitaani, Football, Lwaki Tokula among others and the self-proclaimed Doctor couldn't go their away but rather strategizing on physically assaulting(using his gang) the duo whenever he ran through them especially Radio whom Chameleone knew was the mastermind.
Through intermediaries, especially Gerald Mayanja who is Chameleone and Weasel`s father, this feud cooled off with time and they could be seen all performing together on stage and collaborating on a few projects together some of which are yet to be released. Chameleone while appearing on a TV interview in 2021 to pay some tribute to the late, he recalled a few nasty but funny scenarios with Radio whom he said was a little talented brother he still misses a lot.
"One day I was at my home in Seguku and Radio had just acquired a new jaguar car, he came and made an alarm at the door, we took some time to open up the gate and later my son went and opened the gate. Moses was very much annoyed and called me saying how "stupid' i am? I looked at him and he told my son why he took so long to open up the gate yet they were the one's who helped his father in completing the house which they found on plaster", Jose Chameleone narrated.
"He asked my wife to why she got married to a stupid man like me, but my wife used gestures to cool me up, and surprisingly he said he was joking and said how he loves me so much", Chameleone continued.
"Another incident was when he bought a new jeep, and he called me into the car, I told him that I should drive mine because we were heading for a show, Moses Radio refused saying that I should enter his new one. I agreed but when we approached Mabira, Radio started to drive in a scary way and I told him not to drive me that way, he parked the car and said that I should get out of it amidst the night because it's stupidity that forced me to leave my car at home! But I realized later that Moses Radio was having fun because he hustled so much to attain his level", the Mama Mia singer ended.
With Bebe Cool
Bebe Cool has had an on and off friendship with Goodlyf since time immemorial. From physical to verbal fights, the singers have tussled it out. From the many incidents they fought, I have decided to point out one scenario when Bebe Cool beat them at Effendys bar in Centenary park. Shortly after the scuffle, Bebe Cool was shot in the legs by a security personnel. It is not clear if the Goodlyf crew had something to do with the shooting. The artists moved on from fist fights and resorted to using verbal exchanges until Radio died. Another notable element in the Bebe Cool-Radio fight was the involvement of Bebe Cool's wife Zuena Kirema. Through Propaganda that Radio and his crew created, he claimed Zuena was his girlfriend and they still met even when she had married Bebe Cool. To make the issue worse, Radio released a song titled Zuena that appreciated her beauty and looks something that totally pissed off Bebe Cool and forced him into run ins with the Goodlyfe boys whenever they met. Anyone knows how Bebe Cool loves his wife and Radio knew that he had to tamper with his woman so as to fully turn him off.
With Club Guvnor
In 2008 and 2009 Radio and Weasel were arguably the best musicians in Uganda with songs like Bread and Butter. The artists who thought they had made it wanted VIP treatment everywhere they went and many times caused commotion in certain bars. One night, while partying at Angenoir (now called Club Guvnor) they started a mini brawl fight. With it's strict rules and regulations, the duo was banned from the club for not less than six months and their music was also banned in the bar. In retaliation, they released a song, Kiduula, which was hitting back at the club. In the song they were directly hitting at the bar boss Mr Charlie Lubega who they claimed was directly involved in their suspension. In a 2011 interview with Douglas Lwanga on Record TV, Radio revealed that their issues with Charlie were too deep but all in all it was him in fault. Close sources later revealed that their unending fight was related to women that had started over associating with the boys whenever they came to the night spot something that always turned off Charlie and his big boys! It was later learnt that the boys apologized to Mr Charlie the boss and peace was made.
With Jeff Kiwa
Famous artistes' manager Jeff Kiwa was responsible for making the Goodlyf what it was by the time. He took them out of Chameleone's wings and made them independent for years. The Goodlyf crew however fell out with their manager and their break up involved serious blows after they accused him of occupying on their property at their Neverland home. In 2014, the Jeff ganged up with Pallaso (brother to Weasel) against the Goodlyfe and everytime they met was fighting time. They continued the beef and one time while Radio and Weasle were away for a music tour abroad, Jeff and his team ganged up at their NeverLand home and beat up security guards. The duo sang a diss song to Jeff titled Kisajja Gwe accusing him of wanting to steal them. Jeff Kiwa and the Goodlyfe battles and wars pushed on till Radio's death as Jeff claimed his share off whatever the duo owned, although he currently claims he left it all to go, he was no happy man with Moses Radio who he believed was the master mind of his fights with the crew.
With Robert Kabushenga and the NewVision
In late 2012, the singing duo attacked then Vision Group boss, Robert Kabushenga in a beef song. The song titled 'Ba Customer' apparently ripped Kabushenga apart for ordering a media blackout on the group in all its outlets. The singers claimed that the company used to feature and link them up in past times but now it had moved to a different story where the outlets had made it a habit to publish negative stories about them something Radio claimed was under Kabushenga's command. To make matters worse, the singers sued the group in what they believe were defamatory publications against them and wanted compensation from Kabushenga who they openly called out to pay them in their Ba Customer Song
With Khalifa Aganaga
Khalifa Aganaga was close to the Goodlyf crew and in fact, they have a song together titled Gudi Gude. But before that, things were not so rosy and got involved in various fights whenever they met. In 2015, the artistes were at loggerheads and one evening, while at Hi Table bar along Kampala road, Radio thumped Khalifa Aganaga for throwing jibes at them during his performance that night. Khalifa Aganaga had also accused the GoodLyf singers of stealing the instrumental to his Ndabilawa hit to come up with their chart buster Amaaso where they featured Pallaso. Thank God they put that behind him. Gudi Gude was done in celebration of their reconciliation that was allegedly brokered by Chameleon and his then manager Emma Carlos.
With Eddy Ssendi
The fight between the late Mowzey Radio and Radio host Eddy Ssendi is one that can't be forgotten. In 2017, Moze attacked Ssendi at the Save Uganda music meeting that was held a few years back at Centenary Park, Laftaz Lounge, in Kampala
Moze threw a mineral water bottle at the unapologetic music critic while he addressing artists. The singer said an 'outdated person' like Ssendi had no moral authority to comment about the modern music industry.
With the Traffic police
In 2017, a video clip emerged when a certain man was fighting with a traffic officer in Nsambya. On looking closer, it was Moses Radio. It was rumored that he was resisting arrest yet he was drunk driving. The fight happened at around midday and a shirtless Radio was seen pushing and pulling the officer until he jumped on a boda boda and ran away. This was one of the many fists he engaged in with the police prior to his death.
In a bid to celebrate Moses Radio, the editorial team at SPINERS dedicated a whole month giving you exclusive content on the life of Moses Radio in his different shades. The past weeks we have fully covered who Moses Radio the DAD, the LOVER, the GIVER, the SINGER, the FRIEND, the SOLDIER, the RICHBWOY and today we have covered him as the fighter. As we near the day Moses met his creator on 1st February, we shall be giving you our last article in this #TheMonthOfRadio news series on Wednesday 2nd February 2021. Our last article will be Who is Moses Radio the Songwriter that made a Star and an Angel ? Make it a point to read the past articles in this regard for a better understanding of who Moses Radio the legend that lived amongst us was!