Sunday night hosted the long anticipated Forty Under 40 Africa awards held at Kempinski Gold Coast Hotel in Accra Ghana.
The Forty under 40 Africa Awards were set to identify, honour and celebrate a cross-section of the continents most influential and accomplished young business leaders under the age forty from a wide range of industries we cover, who are committed to business growth, professional excellence and community service and have risen up the ranks of their companies or industries at a relatively young age as result of this.
"Year after year, we have seen outstanding individuals of trailblazers strive hard with dedication and perseverance by overcoming challenges and economic instability. These are the people we awarded" Muhumuza of Bryan Morel Publications – director for the awards from Uganda remarked.
"Our jury sought outstanding entrepreneurs, executives, managers and professionals in the public, private, non-profit sectors and will recognise attributes such as achievements in business, experience, innovation, vision, leadership and community involvement. This year's categories covered a wide range of all the various sectors you can think of, ranging from banking and finance, energy, family business, agriculture, theatre and arts, journalism, fashion, law, sports, event management, health, technology amongst others" he concluded.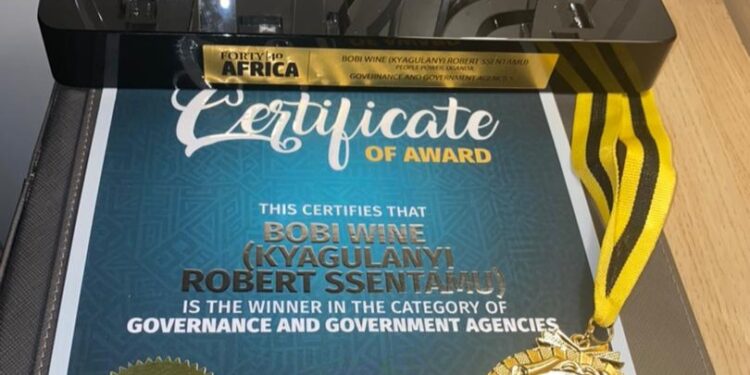 Country Uganda was represented by Producer Matovu Ronald Ronie famously known as Producer Ronnie, Humphrey Nabimanya of Reach A Hand Uganda and Bobi Wine. Amongst other continental winners are Shaky Timburwa (Zimbabwe), Nasonabwe Fuma (South Africa), Ronald Tagoe (Ghana), Amanda Ngcono (Zimbabwe), Christine Awuor Ogola (Kenya), Janatte Haddadi (Morroco), Kwanele Boltina (South Africa), Maged Maurice (Egypt), Pelumi Cato Foods (Nigeria) and Ruth Mueni (Kenya)