Angel Kwakunda the wife of embattled Masaka city tycoon Emmanuel Lwasa has come out to expose his dirty linen live on TV. The couple got married at a traditional wedding last year full of pomp and flair.
They went to dominate showbiz and other gossip media programs for the next few months. However, things hit rock bottom in their marriage a few weeks ago after getting irreconcilable differences. A video surfaced online of Angel kissing another man and was later spotted exchanging contacts with Comedian Madrat. When Lwasa was questioned about it, he made sure to stain his wife or ex-wife. The tycoon said that he hadn't chased her from their home but neither did he want her around.
He further said that she had refused to give birth for him since she still wanted to party. Besides, Lwasa also said that she took off with his money worth 24 million Shillings and other valuables. Angel Kwakunda however has refuted all these allegations. She said that there must be a reason why she never cooked for him. Plus she got into the marriage out of pure love and not the money, she therefore was willing to give birth. Why she couldn't conceive is a question that Lwasa should answer and not her.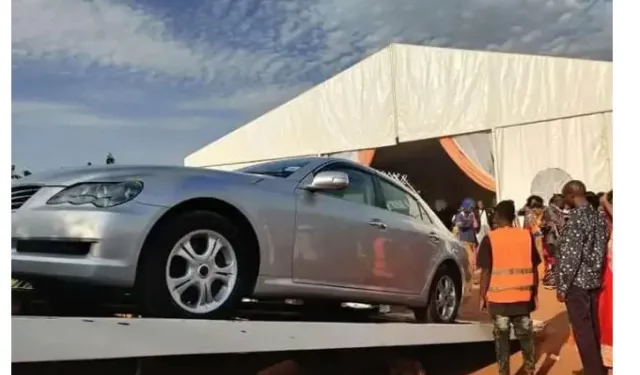 Angel further revealed that the money given to her on the introduction day was fake dollars. She also addressed the car Lwasa gave her on their marriage day as a fake. Angel again revealed that she's been into different marriages but she's never stolen anything. Therefore Lwasa's words are only aimed at tarnishing her name. Meanwhile, Lwasa was yesterday arrested for gold scamming. This is not the first time the tycoon is being indicted for forgeries. Lwasa owns several businesses both in Kampala and Masaka, including Tavern Kick nightclub, Lwasa Proms and Events, and Lwasa Traders Uganda Limited.
On Wednesday, April 6, security escorted Lwasa to his residence located in Nakabugo village, in Wakiso sub-county, in Wakiso district, and carried out a search in and around his house. They allegedly seized vital evidence in the form of documents, suspected to have been forged and used by him to con unsuspecting victims of millions of money. Lwasa was picked from Jinja Road Police Division by detectives from the Police Mineral Protection Unit (PMPU), together with detectives from Jinja Road Police