The Pearl of Africa New Year's Celebrations (PANYC), one of the biggest end-of-year celebration in the country will return tonight 31st December, 2021 to usher Ugandans into the new year, 2022.
This year's celebrations shall take place under the theme "Why I Love Uganda", hosted by NBS Television following a successful first edition last year, which run under the theme, "I Choose Uganda", a peace message that called for tranquility as the country went to the general polls earlier this year.
This year's theme, on the other hand, celebrates Uganda's uniqueness, including her culture, nature, people and more.
The Next Media Services Deputy Group CEO and Chief Strategy Officer, Joseph Kigozi, says the event involves collective efforts by several stakeholders including the formal and informal sector, media and non-media ventures with a common objective in mind to celebrate Uganda's uniqueness.
"As we celebrate the new year, we celebrate the Pearl of Africa context of love embedded within the Ugandan culture, which we intend to spread and trade across the globe through the 2021 edition of the Pearl of Africa New Year Celebrations. With hands joined together, the formal and informal sector, media and non-media ventures, this dream can be achieved," says Mr. Kigozi.
The event will air live on NBS Television, Sanyuka Television, UBC Television, Magic 1 HD, Baba TV, and stream on the Afro Mobile app, broadcasting major celebration points ushering the country into the new year.
The show, which will take place at 2PM – 7PM and resume at 10PM right into 2022, will climax with the Jinja Bridge celebrations which will serve as the center for all the rest.
Headlining the show includes several music artists, Deejays and MCs to heighten the experience by citizens across the country. Artists will include; Jose Chameleon, Vinka, King Saha, Sheebah Kalungi, Azawi, Winnie Nwagi, Grenade Official, B2C, Irene Ntale and many more. NBS's MC Kats and Sheila Salta, UBC's Calvin Da Entertainer, MC Casmir and Madrat and Chiko shall host the event while exclusive DJ's like DJ Roja, DJ Mercy Pro, DJ El Nicho, Geeman spice-up the show ahead of he mid-night clock.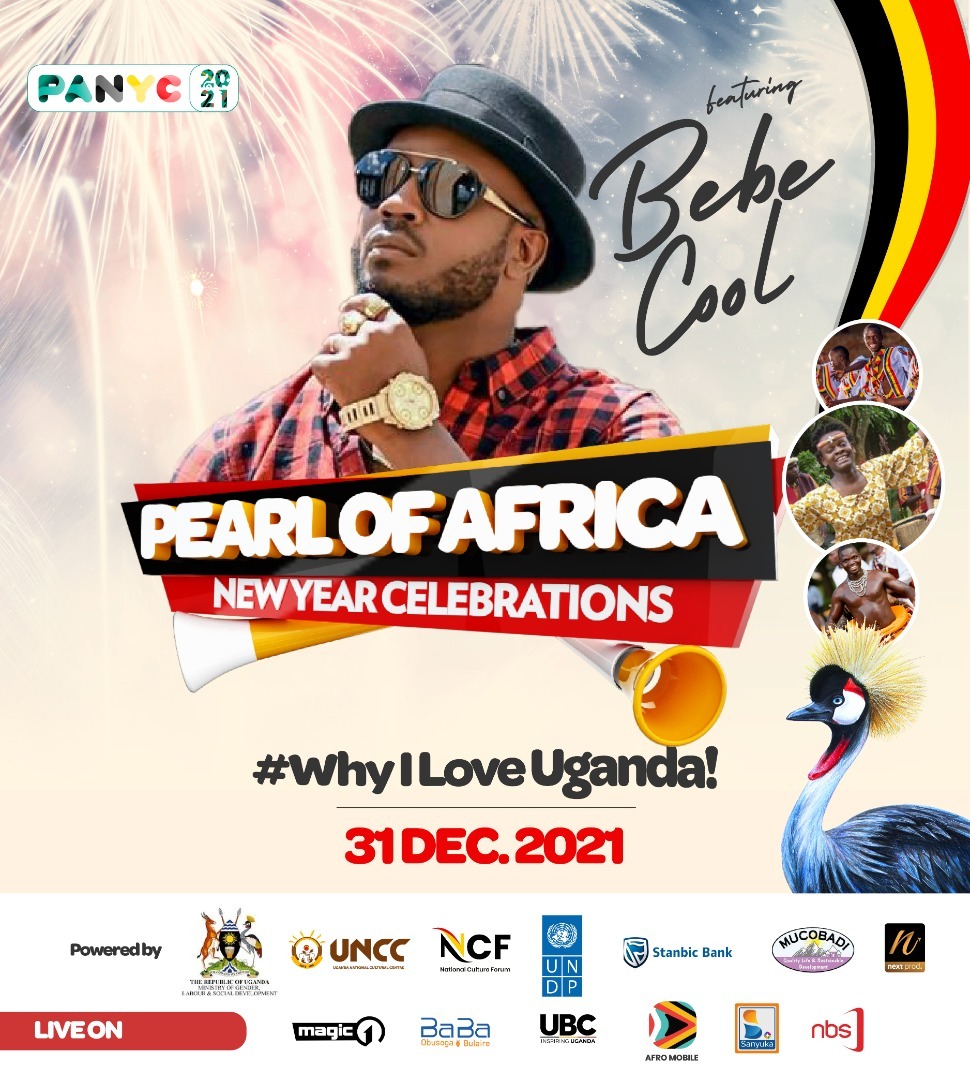 The PANYC 2021 edition is powered by National Culture Forum, Uganda National Cultural Center, sponsored by UNDP, in association with Stanbic Bank Uganda and Mucobadi, and produced by Next Productions. Ministry of Gender, Labour and Social Development is also a proud partner.