Ugandan music fans have come out to air their worries and concern about faded Ugandan female rapper Keko's health status. This was after she appeared in a series of Instagram live videos looking so miserable.
From the videos, Keko, real names Jocelyn Tracy who is currently in Canada appeared intoxicated and in a very terrible state smoking and drinking all the time. Her skin looked soo pale, peeling off, and appeared scaly something that has left her followers worried. It should be recalled that the singer was at one time one of the best not only in Uganda but Africa. She had a promising music career and even won a Channel O award for best East African video for her remix with Goodlyf titled 'This is how we do it'.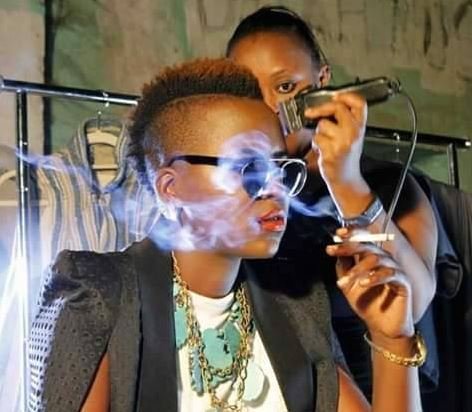 However, controversies relating to her sexual orientation and drugs started derailing her career. She soon flew out of the country to Canada where she revealed that she's a lesbian. Keko added that she had moved out to live a free life. Her drug abuse record subsequently escalated while in Canada and has never been the same again.
The rapper is now a shadow of her former self and looks almost like a beggar. Attempts to revive her once budding career have all proved unsuccessful. Some Ugandans have come out to show concern about her health and only pray she gets helped and becomes a better version of her self.
On the other hand, a one Sipho Nyiiro on Twitter had another narrative that might have gotten the ex-Sony Music Group singer to this state, he says the team played her dirty by archiving her music for years something that got soo many people to forget about her.