The gender gap in workplaces in Uganda is under scrutiny. Women often receive fewer opportunities and lower pay in a lot of jobs. Is this the case in our music industry too? Lots of songs featuring female singers are streaming and topping the charts right now, but how hard did they have to work to get there?
According to Uganda National Bureau of Statistics (UNBS), the statistics they did in 2019 consistently show that it's harder for females to make it into the music industry. Real-life stories from stars like Sheebah Karungi, rapper Recho Rey and Afrigo Band`s Joanita Kawalya reveal a huge gender gap in our music industry. When Songstress Pia Pounds narrates her story to how she got where she is today and its only a rollercoaster of hurdles. The Tupaate hit singer was underground for a longtime. True to that, she was around in the days of Aziz Azion's West End Entertainment, to the genesis days of Big Talent then Jah Live studio times not until she moved on with her manager and producer Kusseim years ago to become the big artist she is today. But female singers shouldn't be disheartened, as female empowerment in Uganda`s music is on the rise.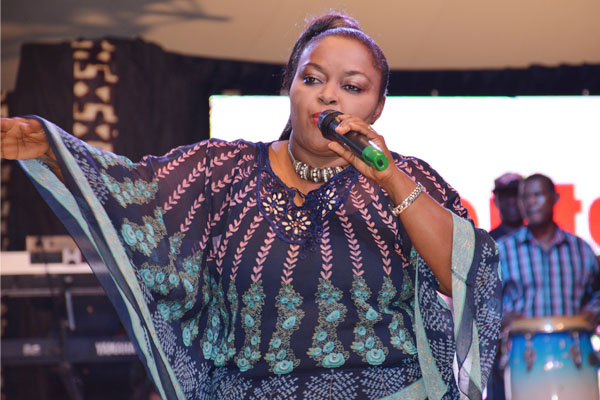 It's not just female singers who face hurdles trying to launch their singing career, but the odds are less in their favor. Hitting it big as a female artist can be hard, but it's far from impossible. Knowing what you`re up against is the best way to beat sexism and join the surge of female empowerment in Uganda`s music. It might seem like you hear female musicians on the radio all the time. But the report from UNBS revealed the sheer size of the gender gap in Uganda`s music. Female artists only make up 21.7% of artists, and only 8.3% songwriters are women. It`s estimated that there are five male artists to every one female artist.
Female artists appear to be doing really well at the moment. Azawi, Sheebah, Vinka, Spice Diana, Winnie Nwagi plus Rema Namakula`s songs can be seen topping chats week in-week out but that look can be kind of deceiving. Women artists seem to have gained precedence in Uganda`s music and feature in mainstream music more than in the past. But statistics from UNBS actually reveal that the number of female artists doing well in music is no different now to what it was 16 years ago.
In 2010, 9 female artists featured on the top charting songs of the year. In 2021, that figure didn't go up- it remained the same. But in the same year, male artists were three times as successful. 31 male singers featured on the top 50 most popular songs, in 2021, leaving female artists in the shadows. The growing women empowerment movements in Uganda has shone a light on sexism in the music industry. The gender gap maybe closing, but there`s a long way to go before female artists are recognized for their talent. Women have a harder time releasing new tracks and sadly, history shows sexism goes deeper than chart ratings.
When I had a one-one-one talk with Winnie Nwagi, she opened up about how fans have tried to sexually assault her at her gigs. She revealed that fans take the lyrics of her songs as an invitation to make advances on her. Her ordeal was made light of some music critics working on a one local radio whom I shared with, however. They brushed over the seriousness of her sexual assault claims to instead talk about the "puffiness of her butt". The gender gap in Uganda`s music goes beyond the singing side of things. Gender disparity spans the entire industry, and the worst female-to-male disproportion is felt in music production. Of all music producers in Uganda, you can hardly name one who is female.
Female artists shouldn't be put off forging a career in Uganda`s music industry. As disheartening as some of the statistics may look, the gender gap is starting to close and females can have a great career in Uganda's music. Female singers like Sheebah, Azawi or Spice Diana are pathing the way for women singers in the industry as they were helped also by singers like Juliana Kanyomozi, Iryn Namubiru, Mariam Ndagire among others. All the aforementioned promote female empowerment and make it their mission to tear up the rule book.